Production
Both natural and synthetic rubber are produced as latex or as a rough, dried material that is packed into bales for shipping to the products fabricator. In order to be made into useful products, these raw polymers must be greatly modified by a number of additives.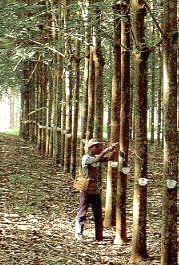 To gather the latex from plantation trees, a diagonal cut angled downward is made through the bark; this cut extends one-third to one-half of the circumference of the trunk. The latex exudes from the cut and is collected in a small cup. The amount of latex obtained on each tapping is about 30 ml (about 1 fl oz).
Thereafter, a thin strip of bark is shaved from the bottom of the original cut to retap the tree, usually every other day. When the cuttings reach the ground, the bark is permitted to renew itself before a new tapping panel is started. About 250 trees are planted per hectare (100/acre), and the annual yield for ordinary trees is about 450 kg/hectare (400 lb/acre) of dry crude rubber. In specially selected high-yield trees, the annual yield may range as high as 2225 kg/hectare (2000 lb/acre), and experimental trees that yield 3335 kg/hectare (3000 lb/acre) have been developed.
The gathered latex is strained, diluted with water, and treated with acid to cause the suspended rubber particles within the latex to clump together. After being pressed between rollers to consolidate the rubber into 0.6-cm (0.25-in) slabs or thin crepe sheets, the rubber is air- or smoke-dried for shipment.