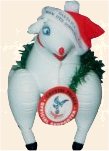 Lucy, the Latex Love Ewe, has been an integral part of Steve & Andy's team since she was delivered to Steve in a black bin liner by a messenger to his office at Thompson Rubber in The City of London around 1988. Kevan Mitchell acquired LUCY on instructions from his father, Derek, and Len Beschizza, in Singapore.
The card draped around her neck had the following ode penned by Messrs. Beschizza & Mitchell on it:
There was a young broker called Heuston
Who roamed with only his boots on,
He said, "Hey, don't be so mean,
'Cos this is a ewe I am stuck on!"
Visitors to Fitzroy House pay homage to LUCY. Her usual perch is on the window-ledge wearing 2 pairs of SIZE 13 Carpet Slippers donated to Steve & Andy by George Sulkowski.